As this is the first Pull List of 2014, I thought it might be nice to mention a few influential people that were tragically taken from the comic book industry in  2013.  You may be asking yourself, "Well what does this have to do with horror?"  Quite a bit actually. Four of these dead guys started their careers during the heyday of violent detective thrillers, and of course the first terrifying horror magazines.  With shockingly graphic images of heinous acts of crime, death and the supernatural, those titles paved the way for the contemporary horror comics we love today. Also take into consideration the fact many horror comics feature characters who are, for lack of a better word, dead. Every single one of these people are also dead.   Now, shove some large preferably recycled object into your reeking face hole and fucking learn something for a change.
Nick Cardy, 1920-2013. During the Golden Age of Comics, Cardy worked side by side with such greats as Wil Eisner and George Tuska until 1943. He returned to comics in 1950's after earning two purple hearts in WWII to draw for many DC Comics not in the superhero genre. Starting in 1964, he was responsible for most of the artwork in the first forty issues of "Teen Titans", as well as a shit ton of others. He was inducted into the Wil Eisner Award Hall of Fame in                                             2005.
Al Plastino, 1921-2013 . As a freelance artist for DC from late 1940's through the 1960's, earning $50 a page, he worked on many golden age titles such as Superman . Plastino along with writer, Otto Binder, co created a few characters you may not be familiar with, like Supergirl, and the Legion of Superheroes. His greatest pride was the work he did in on "Superman's Mission for President Kennedy" in collaboration with the Kennedy administration to promote the president's national physical fitness program in 1963. After the Kennedy assassination, the project was cancelled until at the behest of Lyndon Johnson it was finally published two months later in Superman #171.
Janice Valleau Winkleman, 1923-2013.  Winkleman was one of the first female comic book artists working as an artist and inker for Archie Comics in the late 1930's as well as She worked on such titles as dectective story, "Toni Gayle", "Smash Comics" and "Nyoka the Jungle Girl".  She started moving away from the comics industry after the Senate hearings in the 1950's but continued working until the 1960's when she gave up drawing comic books in order to focus on her growing family.  Winkleman even continued over the years to paint landscapes and greeting cards for her family until her death this year.
Carmine Infantino, 1925-2013.  Inducted into the Wil Eisner Award Hall of Fame in 2000, Infantino designed the, now classic, revamped uniform of the Flash, red with yellow accents, which first appeared in "Showcase" #4 in October of 1956.  As publisher for DC Comics from 1971-1975, Infantino collaborated with Stan Lee in the second joint venture between Marvel and DC entitled, "Superman vs the Amazing Spiderman: Battle of the Century".  Pretty fucking bad ass, right?
Kim Thompson, 1956-2013. After working in the european comic publishing industry, Thompson joined Gary Groth as a co-publisher of Fantagraphics' Comic Book Journal which was " an early version of what would become the industry's preeminent publication for comics criticism. Thompson began working with TCJ helping produce the news reports, interviews, criticism and commentary that would guide and outline the growth of both mainstream comics and the independent comics publishing movement going into the 1980s." -www.publishersweekly.com. He was also known for being one of the best translators and publishers of many european comics and graphic novels introduced to the US.
Here's what the first week of 2014 has in store for all you horror/comic nerds: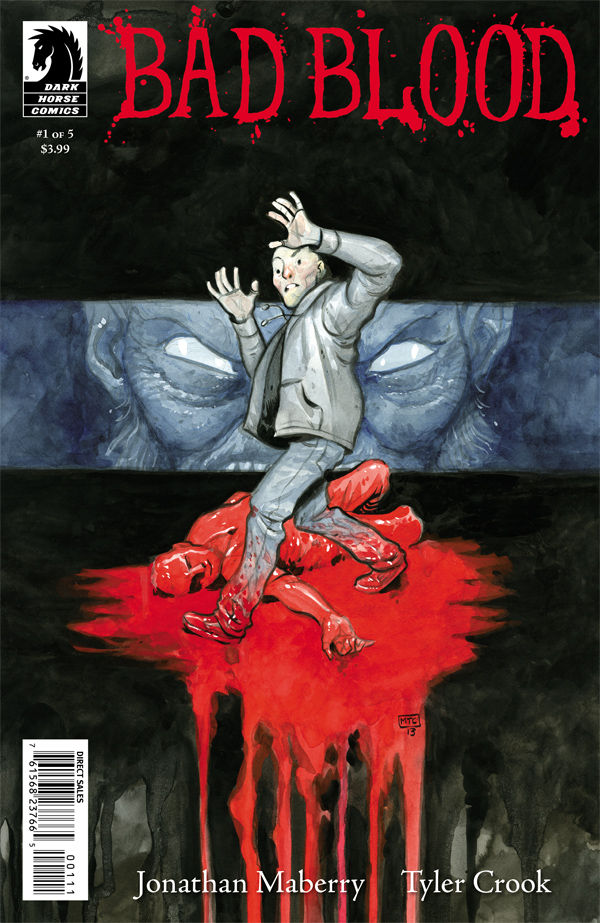 "Getting bitten by a vampire pissed him off. Seeing his best friend brutally slaughtered started a war.  Trick was a typical college student-sort of-until vampires attacked. Then he found out his blood was poison to the bloodsuckers. And Trick will do anything to eradicate them. His blood kills!A vampire tale with an unlikely hero!"
Bad Blood is a new Vampire story created by Dark Horse artist and writer, Tyler Crook. In addition to BPRD, Crook has also done some fine work for Boom!, Image and Oni Press. In Bad Blood, a terminally ill college student discovers that the chemotherapy medication in his blood is a potent toxin to
vampires. I must admit that this is a facinating premise for a vampire hunting story. For this reason alone, Bad Blood sets itself apart from typical examples of the genre. I haven't decided whether I like Crook's unique drawing style, but I do intend to purchase the first one or two issues of this promising book.
"After his long hunt, Baltimore finally confronts the vampire who destroyed his life in London for a final showdown!"
Mike Mignola's Chapel of Bones is the latest chapter in the saga of Lord Baltimore quest for vengeance against the vampire known as Haigus. And while the two part series is billed as the final confrontation between Baltimore and his arch-nemeses, Mignola has more in store for the horror character as the series continues. I was not terribly impressed by last Baltimore mini-series, The Infernal Train. Of course that being my first introduction to Baltimore, I don't know much of much of the character's back-story. Chapel of Bones does at least
seem readable and I won't mind giving Baltimore one more chance to redeem himself.

Grindhouse: Doors Open at Midnight

#4
"The maniacal warden of the prison ship Antares has pushed its comely cons to the limits of human endurance—but these bad mamas won't take their punishment lying down! Alex de Campi and Simon Fraser dish up the riotous finale to "Prison Ship Antares" in the proud sexploitation tradition!"
To be perfectly honest, the first three issues of Grindhouse: Doors Open at Midnight were a huge disappointment to me. I just didn't feel that it should have taken three whole issues to tell the story of man hating evil bee-women bent on invading a small county. Any 1950's horror anthology comic could have done it in five or six pages with more interesting results. I suppose, all things considered , Doors Open at Midnight might still have the potential to bee a decent comic. Time will tell.
"The Occultist has abused his power over life and death, and now he will face the consequences. He must choose the right path—and decide who his real friends are—so he can confront agents from the realm of the dead that want to claim his soul!"
The Occultist is a fascinating look into what it means to be a hero.  A fresh, original tale of a young college student split between two lives.  Our protagonist struggles to juggle school, a social life, romance, and fighting evil in a way that is completely un-Spiderman like.  Will Rob Bailey get to class on time?  How will he ever choose between the blond catholic school girl and the dusky brunette?  Will he finally learn that with great
power comes great responsibility?  Instead of this generic somniferous crap-fest,  I suggest taking an old issue of Amazing Spiderman and stapling it to an equally outdated issue of Dr. Strange.  I have some from a garage sale I hit last summer.  See my ad on craigslist.
"From the pages of THE SANDMAN, Neil Gaiman's dead boys get their own monthly series! As fans of storybook detectives, Edwin Paine (died 1916) and Charles Rowland (died 1990) will take on any and all mysteries – including their own untimely deaths! The dead boys head back to St. Hilarions, where bullying headmasters continue to rule the school. But when they investigate the lingering mysteries of their own deaths, they meet a young girl named Crystal whose tech skills and strange link to the undead earn her a place as a new detective."
The dead boy detectives made their first appearance  in April of 1991 in The
Sandman #25.  Since then the boys have been featured in two mini-series and also made an appearance in Vertigo's 2013 one shot, The Witching Hour. Having finally scored an ongoing series of their own,  I am curious to discover if the characters are strong enough to carry an entire title.  A Hardy Boys / Patrick Swayze in Ghost hybrid with just a dash of Mary Poppins to get the proper English atmosphere, The Dead Boy Detectives will please any fan of the crime fighting dead children genre. What are we to expect  from Vertigo's 2014 horror comic line-up?  If I have my way,  we will be seeing a series featuring a zombie Encyclopedia Brown very soon.
"Witness the birth of a new species of vampire in this reprint of the debut issue of this hit series! When notorious outlaw Skinner Sweet is attacked by a member of the undead, the first American vampire is born: powered by the sun, stronger, fiercer, and meaner than anything that came before."
The Vertigo Essentials series is a boon to both long time fans and curious new readers who may be unfamiliar with some of Vertigo's most acclaimed fan favorites. These books offer the opportunity to become acquainted with some of Vertigo's most revered titles including, The Sandman, 100
Bullets, V for Vendetta and more.  The series is comprised of first issue reprints of  many of Vertigo's finest offerings.  Long time fans will enjoy the nostalgic re-reading of classic selections from among some of Vertigo's most highly acclaimed comics.  New readers will have the chance to learn what all the fuss was really about.  The best part,  these classic #1 issues sell for only $1.00, a great buy for even the most frugal of comic collectors.  Fans will enjoy falling in love all over again while newcomers will get to read some great titles that they might have otherwise overlooked.
"Stranded in the Deep South and severely wounded from a mystical demon's blade, Vampirella must continue her quest to save her former lover's soul, protect an innocent child, and not die in the process. Can Vampirella battle a bloodthirsty horde of rabid demons as her body fails her?"
In the wake of the disaster that was Vampirella's last awful adventure, Vampirella meets the Drac Pack, Dynamite once again succeeds in bringing us another painfully underwhelming Vampi title.  Southern Gothic is set smack dab in the middle of Klan country and let me be the first to let out a resounding rebel yell (if you are not sure
exactly what a rebel yell sounds like, just type Dukes of Hazzard in the search box on youtube).  Besides having shallow characters spewing ridiculously poor dialogue,  this comic also contains a mountain of obscure references to Vampirella's past romantic involvement with her sausage gravy chugging, Winston smoking, cow rapist of an exe.  This comic leaves me with a fervent wish to see the story set even deeper south.  Way way further south.  Like Antarctica south.
"The zombie classic returns in an all new series from the same creative team that brought you the acclaimed War of the Dead. The lepers have been slaughtered, the people who escaped the breeder pits head for the safety of New Washington, and now the zombies are under the control of Donna, the half-human/half-zombie hybrid. With King Zombie dead, she leads the zombies. Or does she?"
Deadworld: Restoration is the latest title in the long running Deadworld series which includes two volumes,  nine limited series, no less than nine one shot issues as well as some original graphic novels spanning from
it's first publication in 1987, to present.  Yes Deadworld has been around way longer that other trendy zombie comic with the word "dead" in the title.  Finding the task of catching up on twenty six years worth of back issues somewhat daunting for my taste, instead I undertook the less intimidating chore of reading issue number one of Restoration.  Having limited knowledge of what came before, my first impression of this comic was a very good one.  The sometimes disorienting, but very stylish artwork in addition to the (so far) competent story telling make Restoration a book I will not hesitate to buy next month.
"In "The Teacher and the Preacher," Tom and Tilly, under employ of the FBI, seek out a kidnapped girl in a creepy old mansion – and her mysterious piano teacher, a longtime practitioner of the dark arts with a scheme up his sleeve that even Tom doesn't see coming."
Going only as far back as issues 31 and 32 was enough for me to be fairly certain of how I feel about this paranormal thriller from Top Cow. Artifacts seems to be a perfectly readable little comic along the lines of television's Supernatural and Warehouse 13. What has really impressed me, is the fact that #33 is done by first time
writing/illustrating team of Italian artist ROM and American writer Kenneth Porter. Both men are previously unpublished and were selected out of over 1100 applicants in Top Cow's 2012 Talent Hunt. From the haunting, beautifally painted artwork and what little dialogue avilable from the CBR preview, one can see that both were well chosen. As for the title itself, I still need to a little more horror homework to determine if the rest of the series satisfies DeathClown's requirements for excellence. -sigh- A clown's work is never done.
Sin Boldly One Shot

(one shot)
" In "Hell Is Waiting," Sinful Suzi learns a lesson about the wages of sin. And in "Burning Roses," Obsidian Stone loses an old friend and welcomes a new demon."
 Sinful Suzi is a character from the erotic horror series  featuring the lingerie clad goddess of birth and rebirth, Dawn.  Suzy now has her own story in Image Comics' one shot, Sin boldly.  Not a big fan of shirts or pants,for that matter, her eye-popping supernatural endowments are intimidating enough to send Vampirella scrambling to call Kim Kardashian's personal trainer and to make frantic appointments with the plastic surgeon for botox injections  Asidefrom the dirty, dirty drawings, Image's preview of Sin
-Boldly gives little indication as to whether or not the book is good enough to merit anything more than just looking at the nice pictures.  Hm, intriguing…  
 One final note, I look forward to the next year of new horror titles and  dream of the coming months when we can expect even more chilling, terrifying, and disgustingly grisly  macabre comic book offerings.  Hope you enjoy reading this week's comics and remember, be sure to rot your brain as much as possible by binge watching reruns of Hannibal and reading as much morally bankrupt, IQ reducing, completely tasteless, comic book trash  as you can fit in that wee little skull of yours.