If you are like me, you may be getting a little bored watching Jingle All the Way, National Lampoon"s Christmas Vacation, and the many other assorted sitcom holiday specials this week.  Maybe this is the perfect time to curl up with a cup of hot cocoa and do some Christmas comic book reading.  These are some of my favorite holiday specials to add some extra awesomeness to your Yuletide.  Don't forget to click on the covers for previews!
'TWAS THE NIGHT BEFORE KRAMPUS -2013, Lifesize Monster Ghost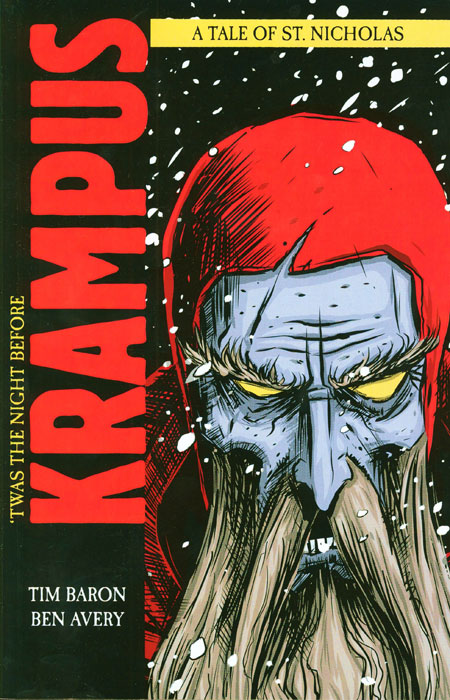 "You've heard the legend of ""jolly ol' St. Nicholas,"" but do you know the truth? St. Nick is real. And he ain't jolly. An endless cosmic brawl between Nicholas and his vile Holiday counterpart, Krampus, will come to a cataclysmic head this snowy Christmas Eve. But this year, only one will emerge victorious. Can St. Nicholas save Christmas Day? Or will this Eve forever be known as ""The Night Before Krampus""?"
THE LOBO PARAMILITARY CHRISTMAS SPECIAL -1991, DC Comics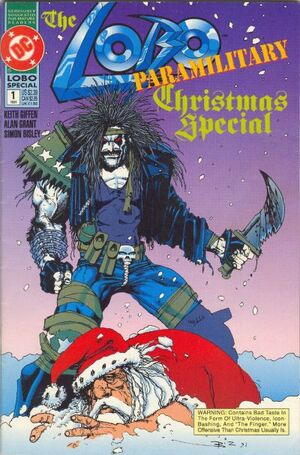 "Ya'd better watch out — ya'd better not cry! Ya'd better not pout, I'm tellin' ya why — Santa 'Bo is comin' to town!"
If you find yourself too inebriated to read,maybe try this Christmas gem.  The Lobo Paramilitary Christmas Special
A VERY ZOMBIE CHRISTMAS #1 -2009, Antarctic Press
" Remember that classic holiday film about what the world would've been like if someone had never been alive? Well, this isn't quite the same… This winter, the weather outside isn't the only thing that's frightful! The wrong sort of holidays spirits are on the loose as zombies roam the streets, spreading their own gift that keeps on giving. You'd better watch out…"
JINGLE BELLE: SANTA CLAUS vs FRANKENSTEIN -2008, Top Cow
 "Hellboy spends Christmas underground with dead guys in a full-length story kicking off this 48-page special full of weird yuletide cheer. Along with the regular backup feature, Gary Gianni's Corpus Monstrum, Mignola is joined by Steve Purcell (Sam and Max) and his seldom-seen Toy Box characters, as well as Geof Darrow (Big Guy and Rusty the Boy Robot) with a special holiday surprise."
THE WRAITH: WELCOME TO CHRISTMASLAND -2013, IDW
"Joe Hill's New York Times Bestselling novel, NOS4A2, introduced readers to the terrifying funhouse world of Christmasland, and the mad man who rules there: Charlie Talent Manx III. Now, in an original new comic miniseries, Hill throws wide the candy cane gates to tell a standalone story that is at once both accessible to new readers, and sure to delight fans of the book."
ARMY OF DARKNESS: ASH'S CHRISTMAS HORROR -2008,                                         DYNAMITE ENTERTAINMENT
"Everyone loves the holidays, right? Wrong! If you've ever worked S-Mart retail in December, you know it's a special hell filled with something even worse than Deadites… dumbass holiday shoppers. And when the Necronomicon gets a hold of some classic holiday entertainment, it sends Ash through a voyage of twisted Christmas visions that beat him senseless and initiate something deeper in Ash. "It's a blunderful life" for everyone's favorite big chinned Chosen One and this year he's going to face something tougher than the Deadite Santas and zombie elves. He'll find a piece of his soul that was swallowed long ago…"
Merry Christmas from DeathClown and the entire Horror Homework family!