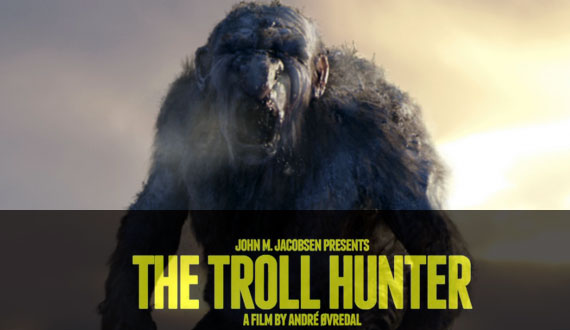 Ah, Trollhunter! My favorite film of 2011.
Set in the gorgeous mountain terrain of Norway, where the legends of trolls and giants originated, the director André Øvredal created a truly original and scary film using some tried and true tools. Where the hand-held "cinema verite" technique is a trend I am getting tired of seeing in new horror films, it is used to great effect here. For once, the characters operating the camera are likeable and natural, and don't instantly grate on your nerves.
The set-up is that this group of do-gooder college kids are following around a suspected bear-poacher, filming him for some kind of expose of the Wildlife Board. They snoop around in the dark, following his battered RV to and from his campground in the middle of the night. He is a standoffish and mysterious character, until one night when he comes screaming out of the dark woods, exclaiming, "Troll!"
After this, there is of course much panic and running, one of the students is mauled by something in the dark, and they return to find their car destroyed and covered in troll-slime.  It turns out that Hans, the alleged bear-poacher is really a Troll-hunter working for the Norwegian government.   In a series of interviews Hans reveals that he actually works for the Troll Security Service (TSS), which hired him to help keep trolls a secret and to kill any that leave their territory and come near populated areas. He explains that there are a number of varieties of troll, and that the one he killed the previous night was a Tosserlad and therefore could not be the same one that Hans has been seeking, a Ringlefinch. The trolls are acting aggressively and have begun to leave their territories more often than usual, and Hans must get a blood sample from the Ringlefinch to try and help determine why.
The students team up with Hans, who asks if any of them believe in God or Jesus, as the trolls can detect the smell of Christian blood. This made an interesting conundrum for the film's main characters, as one of them apparently lied about his choice of faith, and put the lives of his friends at risk. Hans brews up a hearty batch of "troll stench" for his interns to slather on themselves as to go about undetected.
The students accompany Hans on another hunt and, using live goats on a bridge and the blood of a Christian man as bait, Hans successfully attains a blood sample from the Ringlefinch troll. He then turns it to stone with giant ultraviolet lights, and they all watch it explode. In a creative twist, our heroes  learn that the trolls' adverse reaction to sunlight is due to their inability to convert vitamin D intocalcium, which causes their bodies to overreact and explode.
Hans reveals  that some years ago he was forced to massacre an entire troll population in a certain mountainous area, and does not like to go there. The group sets off with a new Muslim camera-woman and begins finding signs of aJotnar, a giant mountain troll, 200 feet tall. Hans takes them deep inside troll territory, and a phone call from the veterinarian reveals that the blood from the Ringlefinch came back positive for rabies. It is likely that a rabies epidemic among the trolls is causing the unusual and aggressive behaviour and must be stopped.
The film ends with a real news clip of the Norwegian Prime minister inadvertently admitting to the existence of trolls, though the press fails to take notice. After the end credit sequence three mountain king trolls are seen for a split second advancing towards the camera from their lair…
This was a great, entertaining film, class. It is incredibly well-done and convincing, one of the best of the year. Highly recommended.
Grade : A
Faithfully submitted by Darth Biscuits.