The Woman (2011) is Lucky McKee's notorious new film. If you are not familiar with his work, do not start here. Skip to the bottom of this article immediately and order yourself a copy of May, his first film, then come back to this one later.
The big news about this film was that it was barely distributed in theaters, due to its controversial nature. In fact, the director himself gives this warning on the film's official site: "The Woman is an exploration of the very definition of horror. It is designed to incite feelings of fear, shock, nervousness, dismay, anxiety and disgust. On a surface level, the film will make you jump, it will make you squirm, and for the more sensitive, it might even induce nausea."
So, of course, all of us horror fanatics have been drooling in anticipation of this one.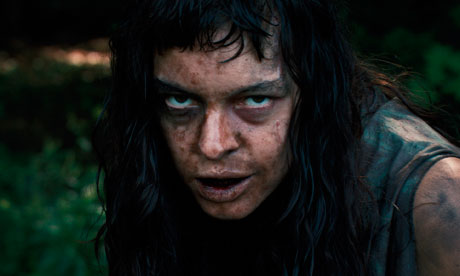 The film's premiere at Sundance made a huge splash, with an irate viewer standing up during the Q & A with the cast and crew and berating them all as sick people. He went on to question what "value" this film has for anyone, before being escorted from the theater. His anger at the "sick" and "demeaning" treatment of the fictional characters on display here (and the subsequent youtube video of him acting like an ass) only fueled interest in the film, and made it more notorious.
Finally, it has made it to a DVD release, and we get to see it at last.
It begins with the camera following the titular "Woman" as she hunts and gathers for herself in the woods. She is clearly not to be messed with, although "feral" may be the wrong word. The viewer can see her makeshift coverings are culled from old tents and shreds of forgotten cloth; a tattered blood-encrusted flannel from some unfortunate soul is wrapped around her midsection. She is clearly independent, not like Beyonce, but independent from all of the trappings of society.
Soon, we meet the Cleeks, the unassuming "average" family that has recently purchased and moved into the property where the woman has made her home. You can really tell that great effort was made for this to be a "character-driven" horror film. The Cleek family appears completely normal, but as you get to know them, specifically the alpha-male head of the household, you really begin to question things. As Angela Bettis, who plays the wife, said of the film in the DVD special features, "It really makes you wonder about what your neighbors are doing."
When Chris Cleek spies the feral woman out minding her own business, washing and gathering, and of course, stalks and traps her, and chains her up in his wine cellar. Suddenly this man has made it his charge to "civilize" this woman, and she reacts aggressively. This character is completely disturbed with a self-righteous god-complex and violent temper, who rules his family with an iron fist. As Sean Bridgers, the actor who portrays Chris Cleek said, "This is a guy that actually believes the fallacy that we can control things, which I don't believe is true. We can manage things, but life is chaos."
Obviously, his master plan is bound to go wrong, and things spin wildly out of control, with quite a few shocks and surprising twists in the plot. The unpredictability of the violent nature of this domineering do-gooder provides great tension. You never know when he might lash out next, and at whom. I don't want to go into too many details, but the film is very dark and ends on an ambiguous, hopeful note, and I really enjoyed it.
Highly recommended to all you horror geeks out there! Watch this shit, then make your way over to the chalkboard so we can discuss it! See you there.
Grade : A-
Faithfully submitted by Darth Biscuits