I have been a fan of Clive Barker for many years.
I started reading Stephen King books in my pre-teen years, and after tearing through virtually all of them in a years time (give or take), I moved on to anything else weird I could get my hands on.
If there was one guy I felt I could trust (at that time in my life and his career) it was Stephen King himself. So, when I started seeing these books pop up by this crazy British author Clive Barker with King exclaiming, "Clive Barker is the future of horror!" I took notice.
I started reading them all. The Hellbound Heart was the novella the movie Hellraiser was based on. Fans like me have been waiting years now for the impending release of The Scarlet Gospels, featuring the characters and universe that first appeared in The Hellbound Heart centering on the character of Pinhead and Harry D'Amour, from The Last Illusion, The Great and Secret Show, and Everville.
Cabal was a great short novel and was the basis for the awesome movie Nightbreed. This movie was a teenage favorite of mine, and I still proudly retain my VHS copy, which is probably older than some of you students.
I devoured the notorious Books of Blood, and his other collections, The Inhuman Condition and In The Flesh. In the earliest days of his career, Clive Barker quickly became a master of short, mean, often sexually-charged horror stories. The Books Of Blood were instantly regarded as classics, and re-published again and again in various interesting editions.
Then, he moved on to the great epic adventures of Imajica and Everville. These were complex, long books with many interweaving plot-lines and interesting characters. Set in universes filled with magic and evil, these books, along with The Great and Secret Show were an awesome escape for me during my high school years.
I even went along for the sweeping historical homo-erotic romances he wrote in the late 90's, like Galilee and Sacrament.
Clive consistently followed his own paths, even as he became less and less commercially successful. At the same time he became more and more creatively interesting, trying new venues of artistic experimentation like video games ;

comic books ;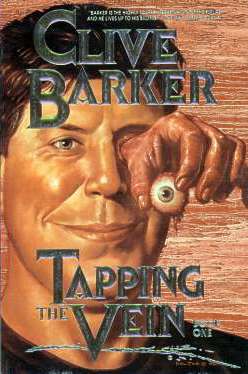 and action figures :
Especially notable are his paintings. He is as prolific a painter and artist as he is as an author. His work is shown consistently at galleries around the world and proudly displayed on his website linked here!
He released his amazing artwork collection, "Visions of Heaven and Hell" in 2003, and gave his fans amazing insight into his mind and creative processes.
The young readers' fantasy series Clive has worked on for the last decade, Abarat, is continuing with the amazing freshly-released third book in the series, Absolute Midnight. He paints portraits of all the characters and landscapes concurrent with the writing of the story. This world he has created, where each island is a different hour of the day, is very much reality for him. It is a great series and a wonderful alternative to all the mainstream Harry Potter knock-offs flooding the young readers' market now.
If you still don't believe me, check out this awesome trailer for the 3rd book in the series. It looks truly terrifying, and demands to be read!
What a shame that as I wandered through the local chain book-store the other day, I couldn't find a single title by the prolific author. He is truly a one-of-a-kind artist, and deserves much more attention than he has received lately.
Thank the Flying Spaghetti Monster for the internet, where we can easily find all of these treasures that were once so hard to locate.
Do your homework, children. Thank me later.
Faithfully submitted by Darth Biscuits.